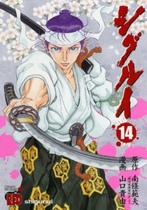 At the beginning of the Edo period (1603-1868), when people enjoyed a time of peace, Lord Tokugawa Tadanaga decides to hold a fighting tournament. In the past, matches were fought with wooden swords, but this time real swords will be used. The one-armed Fujiki Gennosuke and the blind Irako Seigen will fight each other in this tournament, even though both of them are disciples of Iwamoto Kogan — known as Japan's greatest swordsman. So begins the story of intertwining fates, conflict, and strange destinies.

We are in the sixth year of the Kan'ei era (1629), at the beginning of the Edo period. The story takes place inside the castle of Suruga.
The first duel of a tournament which, in contravention of all existing laws, allows the use of real swords, brings together for the last time two mighty swordsmen whose intertwined past is as beautiful and gruesome as the wounds upon their bodies…

An exceptional manga artist decides to tackle the forbidden work by the last giant figure in samurai literature, only to give birth to a colossal period drama filled with unspeakable tragedy and cruelty!

Based on the novel "Suruga-jou Gozen Jiai" by Nanjou Norio.